Sometimes in life you need to expect the unexpected and allotmenting is no different. A late evening trip around 9pm for a bit of watering lead to an amazing discovery, ok not that amazing, but a long awaited one.
I arrived at the allotments and rounded the corner to find the highlight of the allotmenting week, the communal bark pile had been filled! Err, Wow I hear you mutter…..  Ok so its not ground braking, but it is ground covering and we have a number of paths on our plot, that we have repaired and weeded over the past few weeks and months and are in desperate need of a barrow of bark.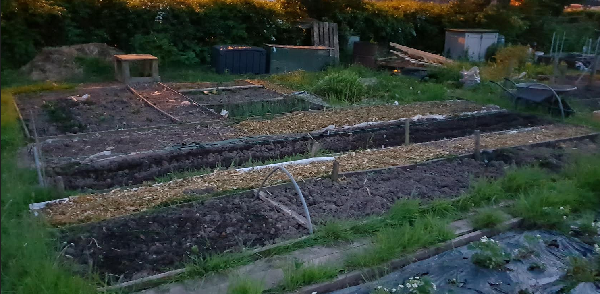 Not wanting to miss the opportunity (we have been waiting to catch a delivery for nearly a year), I spent the next 40 minutes moving 5 barrow loads of bark down to the plot and completing what can only be described as a 'quick spreading' operation, usually reserved for buttering toast at breakfast before rushing to work.
Fingers crossed we have enough or there will still be some left when we next return.