What a transformation of a week, the sun has been shinning, its warm and things are finally starting to dry out down on the plot. This upward turn in the weather has been very well received by everyone and has meant full steam ahead in terms of getting the plot into shape ready for more planting action.
So the name of the game has been digging, digging, weeding and a little more digging. I cant lie, this post is a little latter coming to you then I was expecting, but then again when you have digging as the main subject for the post, inspiration isn't massively forth coming. I think the novelty of digging is wearing a little thin for the 'allotmenteers' also. When you get the classics like 'can we go home now' and 'I'm bored/hot/tired/thirsty *insert whinge here*' within the first 10 minutes of arriving, you know your in luck is wearing thin.
However the youngest was asleep so I was determined to crack on. I had no clue as to what they were going to do with themselves to keep entertained. 'The Boy' was refusing to come out of the shade, no he isn't after the pasty pale complex of a goth, he just has a strong dislike of sun screen. In his 9 year old opinion, remaining in the shade is obviously a better option then applying a bit of factor 50, but he does admit, this can limit your choices of what you can do when the shady section of the plot totals about 2m2. The girls were half heartedly bumbling about with a couple of trowels, jabbing at the ground a bit and giving the occasional yank on some rouge tufts of grass.
To be fair, they were obviously doing more than I'm giving them credit for, or they were just ridding on the back of my own digging success, but would you believe that the girls, found buried treasure in bed 3 of plot 37. No I am not kidding you, in that very same bed that I was digging in, buried treasure was unearthed, and came in the form of, wait for it………. broken clay pots.
Now obviously my imagination isn't up to that of a 9 year old, as it was declared that we had, indeed, found 'Roman Treasure!' So luckily I hadn't opened my mouth a spilt second earlier and accidentally put a proper dampener on the whole situation by declaring the pot to be both modern and most probably mass produced. Had I done so, my digging days would have most probably ended much sooner.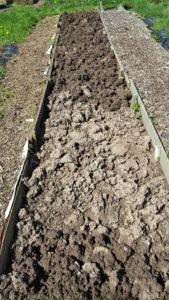 This whole situation was a little inconvenient, it was hindering my digging progress. Extra vigilance was required so as not to break any important artefacts, but I realised I was just going to have to work around it if I didn't want world war 3 to erupt. This would have been bad on two fronts, firstly because it would wake the sleeping child, and secondly there was a lovely old couple just arrived a few plots down and I didn't want us to look bad in front of the neighbours.
A small collection of pottery was collected, cleaned and catalogued with the help of instructions given by the head archaeologist, who shouted his instructions form the safety of the shade.  The bed was also nicely dug over ready for the last batch of seed potatoes to be planted. A win win in my books 🙂
This did get us all thinking though, and latter that day once we had arrived back home, de-wellied and mummy had sat down with a cuppa for a while (I was feeling rather crispy and tired!), we did a little research.
We discovered that there is in fact a Roman road which runs through our town, not remotely close to our plot mind you, but interesting none the less. We now have a day booked in to go and 'see' the road and visit our most local Roman Town. We then widened our search criteria a little and tried find out a little history about our local area and our allotments.
We could see the patch of land on maps dating right back as far as 1903. We think it was most probably farm land which got detached from the rest of its field when a road was built. We spoke to a couple of locals who have lived in the area for many years, and one (lovely) lady who we know said she remembered it being a field which had a horse in a long long time ago. We also know that it must have been allotments for at least the last 50 years, although we're still working on finding the exact date! The red blob on the map shows roughly where our plot is.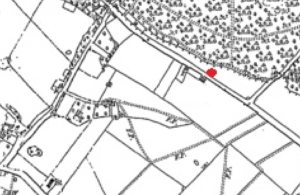 Lets hope the Sunshine continues for a good while yet, and stay tuned as we're heading over to Granny's Greenhouse tomorrow to check on progress, keep fingers crossed everyone!